GETTING THE ALBUM OF YOUR DREAMS
You have all the beautiful pictures from your wedding now and its time to engrave these precious stones into a beautiful ring (read album). A wedding album is kind of like a painting — it's meant to be enjoyed and meant to be looked at. And just as there's an art to capturing the wedding, there's an art to assembling the perfect wedding album. You would ask isn't the album supposed to be designed by the wedding photographer. The answer is yes but with your inputs the album will have the photos that you want and it will be designed according to your aesthetics. Sometimes the photographer might delegate this work to someone else and they would have no clue about your story so its best that you get involved in the selection of the pictures for your album at very least.
Here are some pointers you should keep in mind
1) DON'T DO IT ALONE
The first time you look at your wedding photos it will be a little overwhelming. So many memories all flashing at the same time and your can get a little lost. It will be a good idea to do this with your new spouse or a close friend/ relative. But be careful whom you choose. They should have a good sense of taste which you like and trust.
2) PICK YOUR ABSOLUTE FAVORITES (NOT WHAT YOU THINK THEY SHOULD BE).
Think of your album as your wedding story. Its an emotional record, not a technical one. In other words, pick those photos that you absolutely love. I personally think that the best albums are collections of your favorite pictures. Not necessarily the pictures that have to go in. Sometimes it just happens to be those little moments and not an expression which is on someone's face.
3 ) SORT WISELY
First pick all your favorites pictures. The next step is to weed out the bad pictures (of blinking guests, for example).
Once done you now are ready to group them into categories: pre wedding, getting ready, ceremony, cocktail hour, reception, special moments ect. How many pictures you have in each category (and how many categories you'll have) depends on a lot of things, but keep in mind that eventually you'll put only about 100 photos in your finished album.
4) TAKE YOUR TIME
Choosing photos for a wedding album is like writing a poetry it takes time and when its done it so smooth that you would love and admire each sentence of the poem. The selection of the album normally takes a few hours on average, so don't expect it to be a quick task. All the hard work that has gone into your wedding needs to be reflected up so that each page is filled with emotions. This is how the album will do justice to your beautiful story
5) TELL YOUR STORY
Imagine you're reading a story and it has no text only pictures. You have to focus on how to keep the story moving throughout. You may have picked all the best shots of your gorgeous self, and the wedding party and your parents/grandparents are usually included in formal shots, are you missing anyone important?
In addition to representing a range of events and individuals, vary images by look and type. Modern couples tend to favor a photojournalistic style, emphasizing lots of candid shots, but make sure you have some formal posed shots too this will also give your album a dynamic edge.
6) LAYOUTS
This is where your photographer will help in getting your story converted into a beautiful layout that will bring your story together.
7) DECIDE ON AN ALBUM TYPE
There are many options for albums. You can go traditional with a classic matted style album, which is generally bound like a book in which frames hide the edges of the photos. The best option is to go for a flush mounted album where all the pages open up just like a magazine without hiding the edges. And like books, they're printed on a press, so rather than actual photos, you have pages with your photos printed on them. The set-up fees are expensive, but they last a long long time.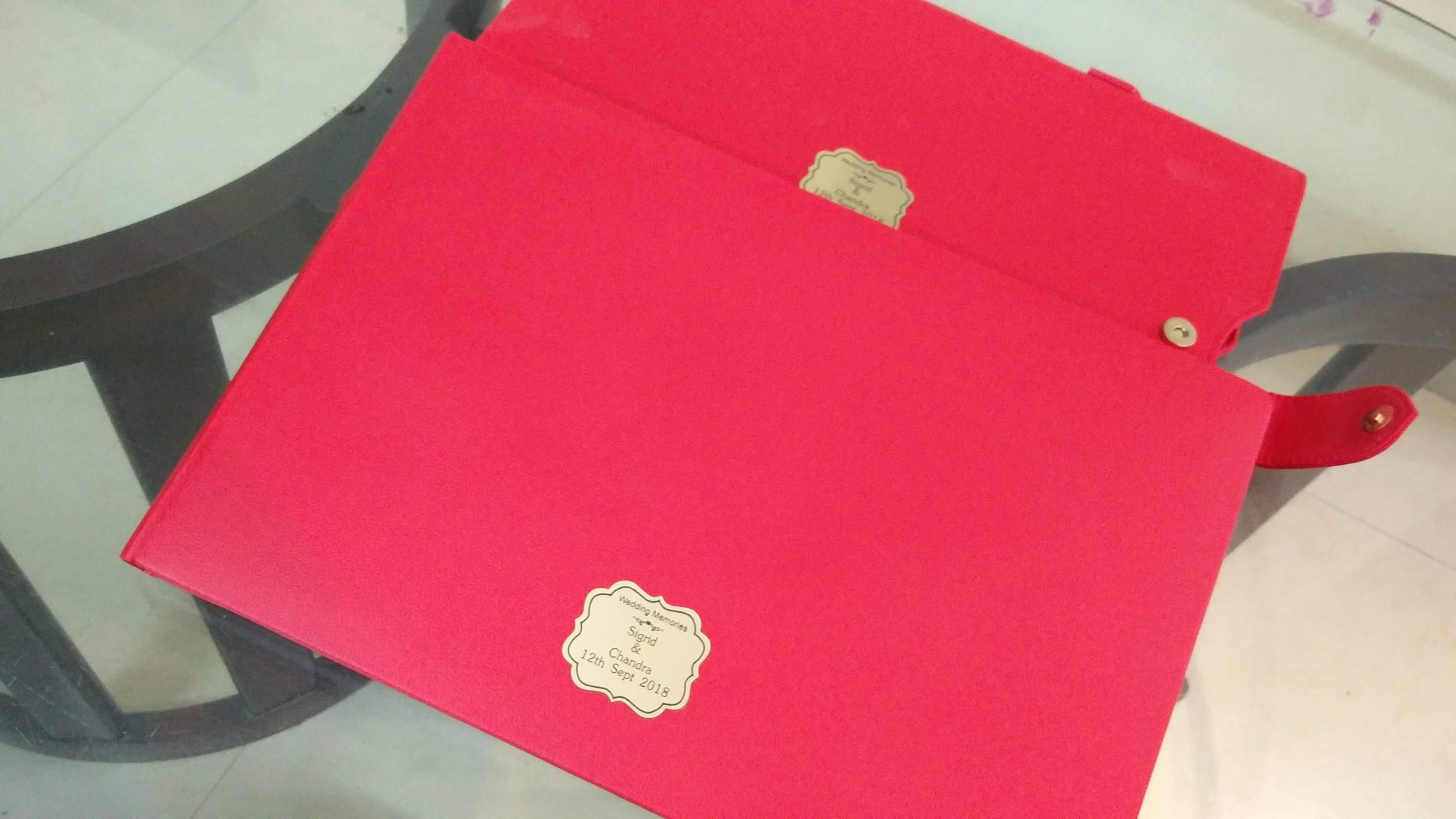 FLUSH MOUNTED PHOTO BOOKS